5

Orphica Brow Eyebrow Serum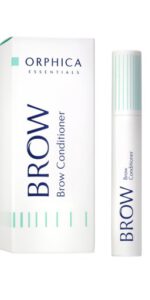 When eyelash and eyebrow serums became popular, Releash (now Orphica) launched their products e.g. Brow Serum which is dedicated to those having thin, light-colored brows. There are lots of positive reviews online but you can also come across many negative opinions.
What's the Brow Serum effect?
The eyebrow serum by Orphica is a gentle product which:
guarantees sufficient moisture levels
delivers a full set of nutrients
improves the appearance, shine and color of brows
strengthens eyebrow hair
Composition: among the ingredient in Orphica Brow, there aren't any surprising substances. There's popular ginseng extract and peptides, that is chemical compounds essential for binding amino acids. The thing that theoretically strengthens and stimulates brow growth may actually harm them yet it's up to your susceptibility to various ingredients.
Applicator: inside a simple bottle, there's a simple applicator. Orphica Brow has a convenient, well-shaped, sponge-end brush.
Consistency: if you were to compare Orphica Brow to the brand's lash version, they have identical consistency. Orphica Brow is a runny serum. Even though it is well-absorbed, the liquid runs down if you apply too much.
Is Orphica Brow easy to use?
The application is simple. At first, you thoroughly remove make-up products, cleanse, dry and degrease the skin. Then, you can apply the serum to clean skin, which takes little time. Priming the skin for application is definitely more time-consuming.
Does it work and when you spot the difference?
Orphica has as many fans as opponents. It is likely not to give you results you're looking to. The full treatment lasts for even 3 months yet you should see the difference after 5 weeks or so.
Brow by Orphica: pros & cons
Strengthening peptides and extracts.
Applicator which eases application.
Well-absorbed formula.
Nourishes, moisturizes, repairs and strengthens.
Eyebrows may fall out during the treatment.
You may accidentally spill the serum because it's very runny.
The price doesn't go along with the effect.
Visible changes take long to appear.