Instagram brow guide: How to apply makeup and take care of eyebrows like a pro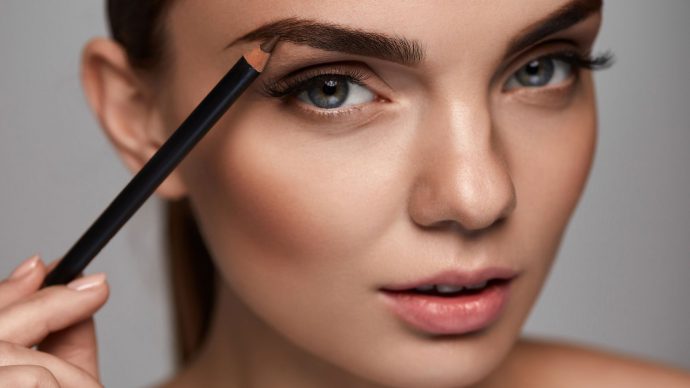 Eyebrows on fleek? Today, 'perfect' eyebrows mean that they are natural, full, nicely defined and well-nourished. These are the Instagram brows everybody is raving about. How to create such eyebrows?
Luckily, it's neither difficult nor requires it spending hours on doing makeup. You're just a few steps from having these Instagram eyebrows! Collect the essential items, read the guide and get down to it!
Eyebrows on fleek: Eyebrow shaping
Thankfully, the trend for razor thin eyebrows are far behind us. Now our eyebrows must be thick, clear to see, natural and obviously neat. Even the bold and so-to-say heavy eyebrows must be shaped well therefore the very first step that has to be taken – providing that you want to create these Instagram eyebrows – is to get rid of the hairs that spoil the perfect look of your arches.
Actually, eyebrow shaping can be carried out in a few ways, so it's up to you which technique you go for – just use the one that is more suitable and convenient for you. For example, you can make use of threading, waxing or tweezers. The latter enjoys the highest popularity, which shouldn't be surprising to anyone. Once the eyebrow shaping technique is chosen, use it to remove the brow hairs that grow outside your perfect eyebrow outline. Also, you can make use of an eyebrow trimmer if you happen to need to comfortably trim the brows.
Eyebrows on fleek: Essential makeup accessories
Apart from eyebrow nourishing cosmetics and tools necessary to give the brows the right shape, you also need some makeup tools. For example, you can reach for a spoolie or a clean mascara wand – these two items are useful if you want to groom the eyebrows. Also, you should equip yourself with an angled brush that can be used to apply makeup products. Make sure that the brush you buy is precise and thin. Makeup artist recommend Zoeva 317 brush or a little bit cheaper but equally precise Hakuro H85. It's a good thing to check how they look so you can find something similar if you for some reason can't buy either one.
Eyebrows on fleek: Eyebrow shadows and pomades
These two are perfect makeup products destined for improving eyebrows. They allow you to create various effects. With both products you can fill in the eyebrows by drawing false hairs and even outline the arches. All color cosmetic that have cream texture are known for being good at staying in the place where they were applied, they have a strong hold and are waterproof which means that they ensure perfect look for the entire day. When you choose eyebrow pomade, be gentle and careful. Use quick and short motions with your hand. If you happen to apply too much product, take a spoolie and comb out the excess. This is how you will create a neat and subtle, very natural and feminine look. Make sure that the eyebrows aren't too sharp – blend the outline into your skin.
Remember!
When choosing the right color of your eyebrow makeup products, check if their shade matches the color of your hair. How to do it? For example, if your hair is dark, pick a one tone lighter shade. Pitch-black hair accompanied with black eyebrows don't look appealing. Another issue that has to be mentioned while discussing Instagram eyebrows, always outline the bottom of the brows with a concealer. This trick makes your look brighter and lifts the eyebrows up.
Eyebrows on fleek: Setting the effects
Fixing eyebrow makeup has a wider sense than what comes to our mind when we think about it. Namely, apart from extending the lifespan of applied makeup products, you also shape the brows and tame them if happen to be unruly. And there is a special cosmetic developed to handle this task called eyebrow setting gel. It's available in two versions: clear and color. When your eyebrows are thick, full and strong, you can go for a clear setting gel. Use a spoolie, let it pick up some gel and run it through the eyebrows. The effect of beautiful, styled and neat eyebrows is achieved!
Even more natural eyebrows
Natural-looking effects are what we want to get – it's trendy now. No matter what your arches are – whether they are full or not – there is always a way to create natural-looking eyebrows. How so? Just reach either for eyebrow shadows of eyebrow pencil. Giving you natural and matte effect, eyebrow shadows allow you to fill in the sparseness. With eyebrow pencil in turn you can accentuate the bottom of eyebrows and add individual hairs to the arches. Always check whether you applied too much product, and if you did, use a spoolie to get rid of it without spoiling the look. Also, make sure that the beginning of your eyebrows isn't sharp or that it doesn't look heavy, which in fact doesn't apply to the end of the brows. The tail should be sharp and a little bit darker than it's opposite edge.