2

Rapidbrow Eyebrow Serum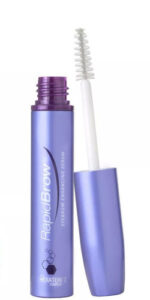 A purple-color version of Rapidlash Serum is designed for brow care. Still, many users prefer the brand's lash product even for their eyebrows. Rapidbrow does give results on condition that you don't face some serious brow problems. It's a good choice if you're not a demanding shopper.
What's the Rapidbrow effect?
It gently strengthens the brows through:
keeping the sufficient moisture level
nourishing the brows
slightly enhancing growth
giving a healthy shine
priming brows for make-up
Composition: the brand boasts about an innovative ingredients such as polypeptides, vitamins and pro-vitamins, plant extracts and keratin. It sounds impressive but this combination of substances may easily lead to over-proteined brow hair, and weighed-down brows because of silicones, gums and preservatives included in Rapidbrow as well.
Applicator: this eyebrow serum comes with a mascara wand-inspired brush which lets us easily smooth the product over the hairs and comb them at the same time. Still, Rapidbrow Serum may drip and get into the eyes.
Consistency: we wish Rapidbrow's fluid formula could be absorbed faster. Instead, it may get on eyelids and requires more time to fully penetrate the skin.
Is Rapidbrow easy to use?
Using Rapidbrow Eyebrow Serum is easy once you get the hang of measuring out the ideal amount. At first, it might be problematic and the serum is likely to get into the eyes. A few first attempts will probably end up in failure.
Does it work and when you spot the difference?
Rapidbrow Serum works well if you don't have high expectations. There are reviews saying it could work better and faster for this price since Rapidbrow needs around two months to strengthen and beautify the eyebrows.
Rapidbrow: pros & cons
Extracts, vitamins and peptides.
Applicator for easy combing.
Moisturizing, nourishing, strengthening effect.
Effective yet subtle action.
Too runny formula which may get on eyelids.
A steep price considering effects.
As many as 60 days are necessary to see the results.