3

Revitabrow Eyebrow Serum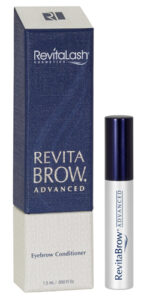 Following the Revitalash Serum success, the brand has designed Revitabrow Advanced. It's made for stimulating growth of naturally thin, sparse and weak brows. It's a quite expensive serum that has been created to improve the appearance of natural brows whose owner isn't happy about (for whatever reason).
What's the Revitabrow effect?
In most cases, this eyebrow serum:
makes brows look better
backs eyebrow growth
intensifies color and strengthens brows
makes eyebrows appear fuller
Composition: the serum is filled with plant extracts from ginseng, green tea, honeysuckle, marigold, wheat and saw palmetto. It's been enriched with peptides, lipids and vitamins. Seemingly rich composition of Revitabrow is a bit deceptive since the more the substances, the higher the risk of allergy to one of them.
Applicator: Revitabrow has a standard, convenient, sponge-tip lip-gloss applicator which facilitates usage.
Consistency: it's nothing unusual, the serum is based on water so it is runny, which may translate to dripping. If we use the minimal amount, it should be absorbed well and leave no marks.
Is Revitabrow easy to use?
Only brow serum beginners, who have never used such watery products, complain about the Revitabrow formula. A skilled hand handles the application fast. Beforehand, you need to make sure eyebrows are free of make-up; don't use greasy or oil-based removers.
Does it work and when you spot the difference?
The effectiveness of Revitabrow is proven by numerous opinions which are opposed by reviews saying that it's a serum for solving minor problems. The first effect of regular use appears after 6-8 weeks.
Revitabrow: pros & cons
Lots of plant-derived ingredients.
A convenient applicator making usage easier.
Improved natural brow look.
Well-absorbed formula.
Definitely too high price.
Too high concentration of ingredients.
Bad choice for consumers with high expectations.