Game-changing makeup tricks: how to get fleek eyebrows?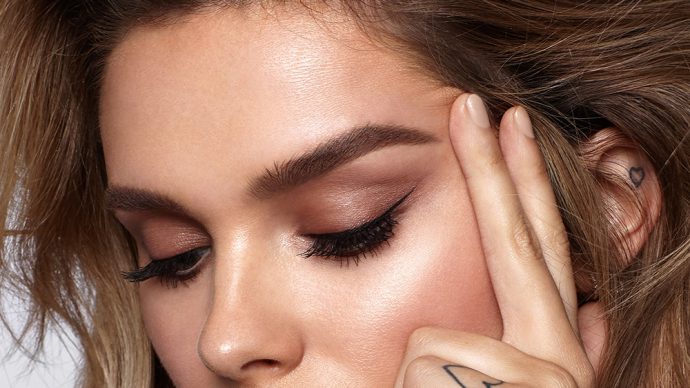 Fleek brows are essential for flawless makeup. Too bad we often struggle to tame them and get the perfect shape. Luckily, some of you know some makeup tricks that make the brows look their best no matter the situation. Check if you know them as well!
Before you get to applying makeup, you should make sure your eyebrows are in shape. Only healthy, thick, full brows look good wearing makeup. There are different brow-enhancing options to choose from (brow lamination, natural oils) but eyebrow serum turns out to give the best results – regular daily application preps brows for makeup.
And they can look even better once you learn some simple hacks that will let you apply prettier makeup faster with long-wear effect. Giving the brows a lick of powder isn't enough to make them look bold and fleek, keeping the effect natural at the same time.
The best makeup tricks for fleek eyebrows
Flawless, outstanding brow makeup usually results from using makeup tricks, or hints that let you create ideal brow look without wasting your time.
– Apply some loose powder first
You should try this trick particularly if your skin is oily. Sprinkling some translucent bamboo, mineral or rice powder over the brows lets you keep the skin oil-free and get rid of sebum excess. This is a good way of making brow makeup last longer because product sticks to the skin, stays in place not smudging.
– Use brow stencils to get the right shape
Some of us don't know how to do brow mapping and we end up with asymmetric, unnatural-looking brows. A stencil is a brilliant way to mark out the brow shape. There are different stencils to choose from so you will surely find the one made for you, matching your natural brow shape the most. All you need to do is press the stencil to the brow hair and draw the contours.
– Apply makeup using a thin, angled brush
Easy-to-use pencils and markers are very popular. You apply makeup easily but what about precision? If you desire natural effect and the most faithful imitation of your own brows, you need some help. A thin, angled brush is a perfect tool for creating flawless, precision brow makeup. You can use it with pomades and powders as well as pencils, waxes and tints. Thanks to the shape and size of the brush you evenly fill in the brows.
– Brush the brows after applying makeup
A small spoolie is all it takes for a perfect finish touch. No spoolie around? Make use of an old (clean!) mascara brush. Comb through the brow hair from the start to the end – this way you spread the product and soften the contours. This is a perfect way to evenly fill in brows with color so that they look natural and patch-free. Simple and effective!
– Tame the brows with gel, oil or petroleum jelly
Even the best brow makeup applied by a skilled girl won't look good if the brows are messy (unless you strive for the messy look). You can tame them with a drop of clear gel, natural oil (argan oil, jojoba oil, almond oil) or petroleum jelly. This is a perfect way to tame unruly brows, making them softer and easier to brush. Not much effort is needed for taming thick, stiff brows.