Eyebrow shaping methods. Do you know the best one?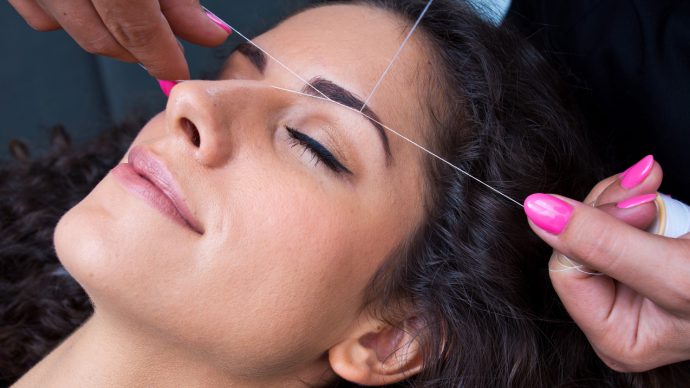 Makeup isn't the only thing that affects the appearance of eyebrows – their shape matters as well. It's good to know how to do eyebrow shaping – this ability lets us introduce changes that affect the entire face. Let's go through the best eyebrow shaping methods so that you can keep your arches under control!
How to shape eyebrows? Generally, in order to get the most beautiful shape, you need to get rid of hairs that grow outside the arches disturbing the thickness and shape of the brows. There are different ways you can use. You can tweeze them, trim them, brush them…They all have one goal – taming the brows and bringing out their natural, lovely shape.
Top eyebrow shaping methods
Go through the most popular eyebrow shaping methods, their good and bad sides, and find one that's made for you!
EYEBROW TWEEZING
Around 80% of women choose this eyebrow shaping method. Why is tweezing so popular? To shape the brows you only need one budget accessory – small, precision tweezers. You can do it even while you travel – all you need is a mirror. Plus tweezing is very simple and all you do is pluck unwanted hairs. It usually takes a couple of minutes and the hairs don't grow back for a week or longer.
EYEBROW WAXING
Waxing is another option of plucking the hairs so they don't grow back long – the effect is pretty long-standing. It's easy to guess that unwanted hairs spoiling the look of brow arches are removed with wax (liquid or strips, hot or cold).
– Eyebrow waxing at home
This type of eyebrow shaping can be done at home but you need precision, patience and obviously the right wax.
– In-salon eyebrow waxing
A pricier but safer option – entrust your brows to an expert who does brow waxing quickly and skillfully.
EYEBROW THREADING
Recently beauty salons started introducing a brow shaping method popular in the Middle East – eyebrow threading. This method uses a crossed cotton thread for removing (plucking) unnecessary brows. Moving the thread along the bottom and upper brow line is a great way of getting a perfect brow shape.
Of course you can do brow threading at home but this method requires more skill and patience. Still it's worth testing because it's gentle on sensitive skin.
EYEBROW TRIMMING
If you are afraid of eyebrow plucking and the pain that comes along, you can go for trimming. Eyebrow trimmers let you easily and quickly trim the brows that grow outside the desired arches.
You can choose between:
manual eyebrow trimmers
electric eyebrow trimmers
No matter the type of trimmer, eyebrow trimming isn't tricky but you need to realize that the brows that are trimmed grow back faster than hairs that are plucked. That is why you need to repeat this form of styling more often.
LASER EYEBROW SHAPING
At last, the most expensive solution, that is laser eyebrow shaping. These days laser technologies are very popular in cosmetology and if we can have leg, arm or bikini hair removed with laser, then we can also use the device for getting rid of unwanted brow hairs. Too bad this is a pricey treatment which requires the use of proper device that is precise enough and gentle on the face skin.