Microblading: the best brow treatment or a hazardous fad?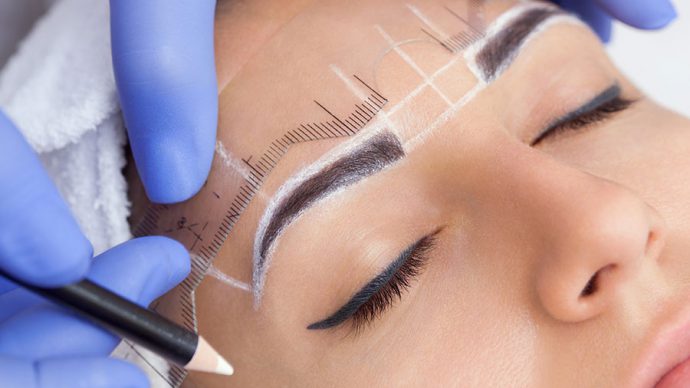 In the pursuit of beautiful appearance we try various methods. Semi-permanent brows are a thing now. Is long-standing brow makeup a good idea? It turns out to have more downsides than we might expect.
Stunning, bushy, bold, arched brows have been women's coveted goal for a couple of years now. Too bad many of us can't use these adjectives for describing their brows: instead of lovely, they are unimpressive, instead of shapy, they are thin, instead of bold, they are light-colored. It's little wonder then that semi-permanent makeup has become so wanted.
MICROBLADING FACTS
Semi-permanent brows can be compared to tattoo. This form of design is made with pigment which is supposed to imitate natural, shapely brows. Microblading is a more surficial form of tattoo, therefore the pigment fades over time and you need a touch-up every several years. This semi-permanent makeup has both good and bad sides, and you can check them below.
What are semi-permanent brow makeup methods?
Currently there are dozens of methods used by brow experts. They are ones giving very realistic effects and ones that make brows look like filled in with a pencil.
The most popular semi-permanent brow makeup methods include:
hairstrokes
soft powder brows
ombre powder brows
bold combo or soft combo
What benefits can semi-permanent brows give?
Without doubts, semi-permanent makeup – no matter if it's done on brows, lips or eyelids – makes a very convenient option, minimizing the need for daily makeup since we look same lovely every single day, over the weeks, months and even years (yet the time depends on the method and the quality of makeup). That's the very reason why so many women decide on microbladed brows: lack of time plus need for comfort.
The biggest benefits of semi-permanent brows:
Cuts daily-makeup time in half.
Guarantees flawless makeup no matter the time of the day.
Reduces spending on makeup products and removers.
Boosts the mood and self-confidence.
Are there any drawbacks of microblading then?
Yes, there are and we should surely be aware of them, and nobody tells you about that in a salon where such service is offered. You just need to think for a while and then it might turn out that the cost of microblading together with the limitations and side effects will make you turn your back on this idea.
The biggest downsides of microbladed brows include:
This procedure is very pricey and not everyone can afford it.
You pay even more if you choose a really professional salon.
You can't fix failed microblading.
To remove microblading, you need laser procedure.
Some people develop allergic reaction to the pigment.
A few corrections are necessary after the proper procedure.
You need to follow suitable after-care for up to 14 days.