Castor oil or advanced eyebrow serum? Which one is better?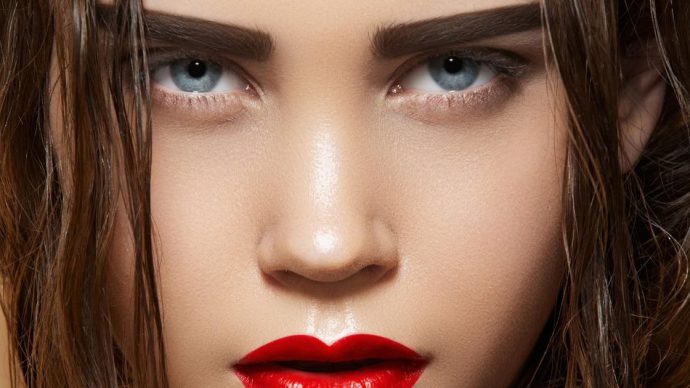 Are you trying to grow eyebrows back? That's good! You'll definitely look better. Not without a reason thick, strong and defined eyebrows have been prevailing for some time now since they make you look youthful and feminine.
Indeed, thick eyebrows take years off! Being aware of this trick, you wish to grow brows back the soonest possible. Perhaps you are now wondering what beauty product would help you achieve this goal the most effectively. Actually, there are two paths to follow: a classic solution which is castor oil and an innovative one which is eyebrow serum. Obviously, both products offer you some benefits, but what about their drawbacks? Which one of them is better?
THE BEST WAYS TO GROW THICK EYEBROWS
Castor oil for eyebrows
For decades castor oil was one of the beauty products used by our grandmas and great-grandmas. Actually, it can be stated that castor oil is the first known hair, eyelash and eyebrow conditioner. Popularity of this natural oil hasn't declined yet which is mainly owed to the fact that castor oil is exceptional. What's so incredible about castor oil? For example the fact that as the only one this natural oil contains ricinoleic acid that is able to stimulate hair follicles to work more effectively and there are a few ways that this improved effectiveness is evinced: hair thinning is combated, strands become stronger, eyelashes and eyebrows get more resilient and shiny. Additionally, castor oil will also help you if want to free scalp from toxins and dirt. This cleansing property of castor oil also found its application in face care where the oil is used in OCM, which is a method focusing on freeing face from impurities due to oils.
Apart from being relatively cheap, castor oil is also multi-purpose. Reportedly, these are two factors inducing women to choose castor oil and implement it into their eyebrow treatments. If it doesn't work on eyebrows, you can always use it up on hair, nails or to remove makeup. Nevertheless, most of us want to see the effects – full-looking eyebrows – the fastest possible, which sadly can't be achieved with castor oil. The truth is, if this natural oil was able to get us thick brows quickly, there would be no need for eyebrows serums and other brow enhancing products to be developed.
Serum for eyebrows
Currently eyebrow serum is the fastest-working and the most intensively nourishing eyebrow care product available on the market. The process of developing such product focused only on satisfying eyebrow needs. The main task of this enhancer is to directly stimulate the follicles, which means that eyebrow serum is supposed to start reinforcing eyebrows from their roots. Owing to this quality, the whole eyebrow hair – the bulb, follicle and shaft – is gradually getting stronger. Consequently, eyebrows become fuller, get more shiny and resilient, the color is more intensive. They glow with health!
What's interesting, eyebrow serum affects all follicles, even those who remained inactive for a few years. This is how faster regrowth of eyebrows is possible; they may even get thicker than they have ever been before. It's worth realizing that the best eyebrow serum also allows you to regenerate, reinforce, protect and nourish the brow hairs, which means that such beauty product offers you a comprehensive eyebrow care. Another issue to discuss is the speed of achieving the results. In most cases, the best eyebrow serums are pretty fast at it since they are able to create visible effects within 2-3 weeks. Obviously, the initial state of your brows, whether they are severely damaged or not, determines how quick the results will be achieved. Still, one can be taken for granted – eyebrow serum works faster than castor oil. Actually, it's a good idea to use castor oil for daily eyebrow protection. Fatty acids that castor oil contains are good at shielding the hair from the harmfulness of various external factors.
However, if you wish to get this picture-perfect eyebrows, lay your trust in an advanced eyebrow serum. Only eyebrow serum knows how to improve eyebrows by answering all their needs and supplying them with the right nutrients.
Application of eyebrow serum and castor oil
As mentioned earlier, castor oil is effective, yet you must be really patient with it if you want to regrow the brows. Undoubtedly, low price of castor oil is one of its biggest assets – it's a few times cheaper than an eyebrow serum. Still, if you want to give castor oil a try, be persistent and systematic with applying it to eyebrows. Treat the brows with castor oil regularly for a few months. Best if you keep applying the oil to brows morning and evening since this makes castor oil work more effectively. Also, be careful because if you apply too much, castor oil may run down your face and get into eyes, which can cause pretty nasty irritations.
If you decide to enjoy the benefits of eyebrow serum, you should apply it only once a day, most preferably at bedtime. Obviously, you should cleanse the brows and the skin really carefully and thoroughly – this will help the brow serum penetrate skin easily and unlock its full potential. In other words, before spreading eyebrow serum along brow ridges, make sure that the eyebrows are dry and perfectly clean. Only then can you be certain that this brow enhancer reaches the follicles to supply them with essential nutrients and moisturizing agents. The last thing to mention, a good eyebrow serum needs just a few seconds to get absorbed fully, which means that you don't have to worry that it may get into your eyes.