Eyebrow makeup: top products to test for envious brows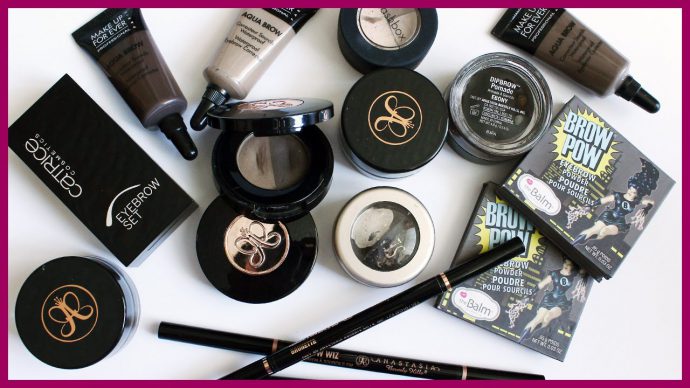 Thin, skinny, barely-there eyebrows are gone and will never make a comeback. Bold, perfectly filled-in brows are wanted now. Do you know brow products that are worth your money? Have you come across timeless cosmetic jewels that let you get fleek brows in no time? Get familiar with our comparison review!
Picture-perfect eyebrows & the best makeup products
1. Make Me Brow Essence Gel Mascara
Both budget and surprisingly flawless gel mascara. We just wish the choice of colors was wider. This is an innovative 3in1 product that enhances the color, shape and thickness of brows. The tinting gel contains tiny fibers that are perfect for filling in patches, styling the brows and giving them fleek shape.
2. ZOEVA Brow Spectrum Palette
Zoeva has never launched a bad product. Each and every palette by the brand amazes with stunning pigmentation, color depth, long-wear formula and unusual consistency. The brow palette is equally polished: the variety of colors lets you combine hues, give brows a strong hold with wax and create ombre effect so that brows look as natural as possible.
3. Make Up For Ever Aqua Brow Waterproof Eyebrow Corrector 
This waterproof brow tint is a masterpiece that every user will fall in love with. Closed in a small tube, the product surprises with the number of shades, plus it is highly pigmented and extremely long-wear. Aqua Brow means effortless and pleasurable makeup, and endless possibilities. The tint lets you use hair-like strokes and create a real masterpiece on your brow arches. All you need is a quality brush!
4. Maybelline Brow Satin
Double-ended, gap-filling pencil for fleek brows. It's automatic and easy to use whereas the lead keeps soft and fresh long. Maybelline Pencil gives brows amazing shape and you can use it for drawing hair-like brow hair. There's a powder on the other end for the perfect finish. The colors are natural and lovely, plus the effect lasts very long.
5. Deborah Eyebrow Palette
If your brows aren't thick and dense, a pencil is not enough. Afraid of advanced brow palettes? Try a small version that you can always have on you. Powder applied with a slightly angled brush makes a perfect choice. Of course you need to keep the brow start lighter whereas the end should have a darker color. Even though Deborah Palette is small, it features all must-have colors for fleek brow makeup. Eyebrow powders are usually matte so you can use a glossy wax as a finishing touch – it gives strong hold and adds natural shine to brows and skin.
6. Benefit Cosmetics Brow Contour Pro
Brow Contour Pro is a new "prodigy child" by Benefit Cosmetics. Lovely-looking pencil looks like a multi-color pen and it actually has a couple of colors. Lighter colors are made for illuminating the skin in the brow area or for brightening the inner corner of the eyes.
Two darkest colors fill in the brows. Benefit Pen is available in a few color versions for blondes, brunettes, red-haired and brown-haired girls. Thin and precision pen lets you apply flawless brow makeup effortlessly.