7

Luxe Beauty Brows Eyebrow Serum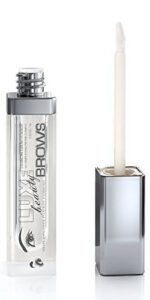 Luxe Beauty Brows looks like a lip-gloss in a characteristic lip gloss tube. The design surely stands out against other brow products. The serum is intended for thin, sparse, overplucked brows. Unfortunately, due to poor quality, it is left far behind.
What's the Luxe Beauty Brows effect?
With the right application and lengthy treatment, this eyebrow serum:
facilitates the absorption of nutrients
gently enhances natural brow growth
maintains the essential level of moisture
protects brow hair e.g. against damage
Composition: the ingredients in Luxe Beauty Brows aren't at all surprising. The serum includes both a vitamin complex and plant extracts (white tea, aloe, grapessed, mulberry). The product manufacturer added in some ceramides, amino acids and peptides so the serum is overloaded with ingredients.
Applicator: the company hasn't come up with any innovative solutions which is a good thing because a sponge-end brush is easy to use. On the other hand, it could be a bit bigger so we can smooth the serum over the brows faster.
Consistency: gel consistency of Luxe Beauty Brows is both beneficial (doesn't get into the eyes) and problematic (clumps brow hairs). The gel is light so it's well-absorbed yet not as fast as runny serums.
Is Luxe Beauty Brows easy to use?
The application of this serum isn't much different from other similar products. Priming the skin, that is removing make-up, cleansing and drying, is the first step. Next, apply a small amount of the serum to both brow arches. The whole thing takes a little while.
Does it work and when you spot the difference?
Many users noticed satisfactory improvement in eyebrow condition after using Luxe Beauty Brows Eyebrow Serum. On the other hand, the manufacturer says not to pin high hopes on the treatment as it is impossible to grow new brows within several days. You need around 60 days to spot the effect.
Luxe Beauty Brows: pros & cons
Non-drip formula.
Plant ingredients and vitamins.
A suitable shape of an applicator.
As many as two months to see first effects.
A bit too small applicator.
Results are too subtle.
Clumpy formula.
Too high concentration of ingredients.