4

Long 4 Lashes Eyebrow Serum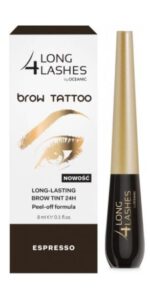 Long 4 Lashes is actually the name for two products: eyelash serum and eyebrow serum. The lack of a separate name for the brow enhancer gives rise to some problems; the product is less known or people don't know such a product even exists. Still, some users like Long 4 Lashes Eyebrow Serum and think it's a good brow-nourishing product.
What's the Long 4 Lashes Eyebrow Serum effect?
Eyebrow serum by AA Oceanic:
delivers nutrients to brows
might slightly boost growth
moisturizes and smoothes out the brow surface
enhances shine and elasticity
Composition: considering the ingredients, Long 4 Lashes Eyebrow Serum resembles its twin lash version, including pro-vitamin B5, hyaluronic acid, allantoin and controversial bimatoprost. Too bad the product creators added in various synthetic enhancers and preservatives. Naturalness isn't a thing that Long 4 Lashes can boast about.
Applicator: you apply Long 4 Lashes Eyebrow Serum using a pretty small and quite convenient applicator. We feel like picking on the spongy end which is gradually deformed and damaged during the treatment.
Consistency: because of being runny, Long 4 Lashes makes many shoppers worried it might end up in their eyes, causing unpleasant redness. Still, this type of formula has some benefits e.g. pretty fast absorption.
Is Long 4 Lashes easy to use?
Nobody is going to be taken aback by the application method. Long 4 Lashes Eyebrow Serum is used on a daily basis, in the evening after cleansing and drying the skin well. Before use, check the instructions in the leaflet.
Does it work and when you spot the difference?
Long 4 Lashes is a good eyebrow serum yet the effectiveness depends on the individual reaction to its ingredients. In most cases, it gives satisfactory results after around 3 weeks but some users don't like the effect being so subtle.
Long 4 Lashes Eyebrow Serum: pros & cons
A low price compared to other serums.
An easy-to-use applicator.
Vitamins in the composition.
Effective conditioning action.
The applicator gets damaged.
Some users think the effects are too subtle.
A bit too watery formula.
The composition isn't all-natural.