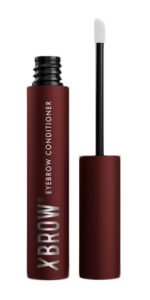 Among the most interesting eyebrow serums, which don't seem to lose users' interest, there's Xbrow. This nourishing serum has been designed by doctors and beauticians. It's supposed to accelerate growth and improve the brow look for every person struggling with too sparse, light-colored or uneven brows.
What's the Xbrow effect?
Used religiously, this eyebrow serum is able to:
replenish vitamins and minerals
moisturize quite well
give brows a healthy shine
have a positive effect on the brow follicles
Composition: unique combination of various plant-derived nutritional ingredients which have been used in traditional Far Eastern cosmetics for ages. Still, we wish Xbrow was made of more advanced and modern substances for this price.
Applicator: the product has been equipped with an applicator having a standard size and shape, resembling a lip-gloss sponge. It's really comfortable.
Consistency: too bad it's not perfect. A very runny serum which takes long to be absorbed may cause some problems. Too much product is likely to run down and get inside the eyes.
Is Xbrow easy to use?
With a convenient applicator, the product is pretty nice to use. The problem is the runny serum which requires you to carefully measure out the right amount so it can be absorbed faster. This, in turn, makes the application lengthy, plus there's also thorough make-up removal you need to remember to do beforehand.
Does it work and when you spot the difference?
Opinions on the product's effect are mixed, that's for sure. Some Xbrow users like it very much and see improvement in the brow look whereas others feel disappointed and don't feel like repurchasing it. The desired effect is achieved after approx. 12-16 weeks, which is another downside.
Xbrow: pros & cons
The suitable sized applicator is convenient.
Formula is based on plant ingredients.
Nourishes, moisturizes, strengthens brow hair.
Effects take very long to appear.
Too runny consistency and very slow absorption.
It often fails to deliver any effects.
The price is steep considering the product's quality.